7 convincing reasons you need to launch a website for your small eCommerce

Lesedauer
4
Minuten
eCommerce is an industry that's getting more competitive every year. Marketers need to constantly find ways to differentiate from the competitors, launch amazing offers and eliminate the unnecessary. Among eCommerce marketers who have witnessed great success on social media channels, it's not unusual to eliminate the website section of the business in order to decrease costs. We definitely would not recommend this approach.
In this article, we will be discussing some of the main reasons why your small eCommerce brand needs to operate on a website. Take a look:
1) E-commerce is getting increasingly important in the world of retail
According to research, eCommerce now accounts for over 14% of total retail revenue worldwide, and the numbers are only expected to increase. If you want to lead a successful eCommerce brand, you need to launch as soon as possible. Also, you will need to spread out on different channels in order to cover a customer base that's as wide as possible.
This may seem hard to achieve and costly in the beginning, but it will be worth it in the long run. If your competitors are not using particular platforms, it doesn't mean that you shouldn't – in many cases, it's exactly the opposite.
2) Mobile shopping is on the rise
Out of all eCommerce sales, 30% occur from mobile devices. According to 3dCart, almost 1 in 4 online sellers do not have an optimized mobile store. This is your chance to provide better value from your competition. Once you launch your first eCommerce website, make sure that it's mobile-friendly and responsive for users who are visiting it from mobile devices.
Once you gather bigger numbers of customers and visitors, you can also invest in a mobile app. An application is a great addition to your website, and these two can complement each other perfectly. Just take a look at what some of the major eCommerce brands are doing with their combinations of website and app.
3) Organic traffic can help you tap into new audiences
According to marketing research, if you manage to get on the first page of Google for some of the keywords relevant to your online store, you will get an average click-through rate (CTR) of 20.5%. This is actually one of the most valuable and convincing stats that should speak volumes about how important it is to own a website as an eCommerce brand owner.
Websites allow you to post textual, visual and video content, develop pages, sub-pages, collections, tags, posts, and much more. Every little section of your website counts towards search engine success and can help you get noticed by Google and other search engines.
Marketers who attract most of their traffic from social media (organically or via paid ads) are often sceptical about organic traffic and underestimate it. However, the fact remains that organic audiences are more likely to make a purchase, have a lower bounce rate and stay in the store for a longer amount of time. All of these things increase the likelihood of them making a purchase.
4) You can describe your products and collections in more detail
Social media ads only speak so much about the features and main strengths of your products. Your website is actually the platform where you will have enough room and time to get into details.
If you are not that much of a wordsmith, you can hire professionals to help you or use online tools for better website content: paper writing help (pro academic writers are the perfect choice for online content), Grammarly (check all the content on your eCommerce website to make sure that it's correct and easy to read), Fiverr (hire cheap, reliable eCommerce writers who will help build up your site's content).
5) You can use your website to promote offers and sales
You should look at your eCommerce website as a great platform for communication and presentation to your customers. It's not only a catalogue of products and collections where you list prices and accept orders. Rather, it's your brand's own world. It's a chance to tell your story and build deep, emotional connections to your visitors and customers.
Here, you can offer several perks that will moetivate first-time (and other) visitors to make a purchase, sign up for your email newsletter, chat with your representatives or something else, depending on what your campaign goals are.
6) Your website can be used as a retargeting tool
Furthermore, an eCommerce website is a great tool for gathering data and information about your customers. By comparing and looking at their behaviour on your website, you can learn a lot about the direction your website and the overall brand could take.
In the old days, this was the task of focus groups and paid experiments. If you were launching a T-shirt collection, you would bring in dozens of people who would talk about their impressions and opinions. You would then collect all these, compare them and come to conclusions based on a small sample of people and limited data.
With eCommerce shopping, this process has been turned upside down. Now, you actually have the chance to observe every single piece of the shopping process. You can compare insights based on data points from hundreds of thousands of visitors.
When you have an eCommerce website, it's also an incredible chance for retargeting. You can reach customers who have abandoned carts, browsed through collections or search for products on other channels. This is an incredibly effective marketing strategy that helps you capture a huge portion of your "lost" audience.
7) It's digital real estate
Finally, we should mention that occupying a domain and building a virtual store is highly similar to renting out physical space and offering your products to customers in the real world. An online presence has its value, and you definitely shouldn't underestimate it. Also, if you have a domain name that's competitive and used often, this is the perfect chance to purchase it, because its value will only grow in time.
Conclusion
Even though it seems we don't enter websites that much anymore, it's just an illusion. Major eCommerce brands might use social media ads or email, but they will always redirect you to their website. Online store websites are where all the magic happens. Even if you attract a lot of visitors and leads from social media ads, it's still recommended that you take them to a platform that's structured, organized and appealing.
Ultimately, this will lead to better sales because you're giving your customers the experience of browsing through products and collections, just like in a physical store. When you direct your customers to a landing page with a single product instead, you will be missing out on a lot of possibilities for higher cart value and customer retention.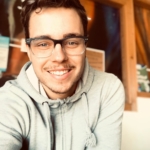 Dorian Martin betreibt seinen persönlichen Blog Be innovative, in dem er über Geschäftserfolg und digitale Marketingtricks spricht.
https://blog-static.easyname.com/2020/12/01131707/ECommerce_Blog.png
750
2000
Dorian Martin
https://www.easyname.com/blog/wp-content/uploads/2022/08/easyname_logo_default.svg
Dorian Martin
2020-10-09 09:21:57
2021-02-05 14:17:15
7 convincing reasons you need to launch a website for your small eCommerce